Text messages found on Hunter Biden's laptop reveal conversations between members of the Biden family referring to a "sexually inappropriate" relationship between Hunter and his underage niece.
While excerpts of these text messages have been available since 2020, last week week the New York Times officially confirmed that the laptop belonging to the President's son is authentic.
That development came just one day after President Joe Biden made what at the time appeared to be an unprovoked speech against people being "blackmailed" with self-shot or voluntarily-shot images showing them in "compromising" positions.
"I bet everybody knows somebody," said Biden, "That in an intimate relationship, what happened was the guy takes a revealing picture of his naked friend, or whatever, in a compromising position and then blackmails."
With the authenticity of the laptop confirmed, and the Biden White House taking steps to curtail the public release of private information that could include his son's communications, it seems relevant to revisit the Biden family crisis that happened after Hunter Biden was alleged to have behaved in a "sexually inappropriate" fashion with a minor family member.
Since text messages found on Hunter Biden's laptop surfaced in 2020, a number of outlets and pundits have reported excerpts.
Candace Owens used her Twitter to say that Hallie was talking about Hunter Biden's niece, Natalie. She was amplifying a tweet from Rep. Lauren Boebert, and both were quoted by right wing site BizPacReview.
More recently, Marco Polo, a research group associated with Garrett Ziegler – who previously worked in the White House during the Trump administration – made the text messages from Hunter Biden's laptop available to the public via the Marco Polo website.
Ziegler told Valiant News that "For an unspecified amount of time in 2018, Hunter Biden was not allowed to be alone with his niece, Natalie Biden."
"Based on the concrete evidence from the Biden laptop," the former Trump White House staffer explained, "no fewer than 11 people made aware of allegations from Hallie Biden that Hunter was 'sexually inappropriate' and/or 'gettin' off sexually' with his niece."
"At the very least," Ziegler added, "multiple state level crimes were committed as four of those 11 people were mandated reporters."
Ziegler has been described an election integrity advocate who maintains the 2020 election was stolen from Trump and that Biden is an illegitimate president. The "intelligence community" insists that the "2020 election was most secure in US history."
"It is imperative that I speak with you… It is simply not fair to shut me out."

– Jim Biden to Hunter Biden
As text messages retrieved from the infamous laptop indicate, Hunter complained repeatedly, and to a number of contacts, that his former lover and sister-in-law Hallie Biden described him as being "sexually inappropriate" with a minor female family member.
Hallie Biden is the widow of the late Beau Biden, who Hunter was involved with romantically, and apparently sexually, after his brother's death. Their relationship, and breakup, was widely publicized in the media.
Among members of the Biden family aware of the allegations were Hunter's parents Joe Biden and Jill Biden, his sister Ashley Biden, who is trained as a social worker, and Jim Biden, the brother of the President. Others Hunter confided to included family friends and a therapist who has since lost his license.
In some instances, Biden family members stated their intention to take Hunter's "side" in the apparent family crisis that ensued after the allegations were made, electing to believe Hunter's side of the family crisis over Hallie Biden's accusation.
It's unclear what exactly the allegation Hallie levied against Hunter was, but the words "sexually inappropriate" and "molest" were used to describe it in text messages.
The subject of the allegations was around 15 when the text messages were sent and received.
Here, Valiant News will attempt to create a timeline of accusations that Hunter behaved in a sexually inappropriate manner with a minor family member, whose name Valiant News will redact on this website due to her status as a minor.
The text messages used in this timeline are understood to be taken directly from the Hunter Biden laptop that was recently authenticated by the New York Times.
"She told my therapist that I had been sexually inappropriate with [redacted]"

– Hunter Biden to Ashley Biden
July 2018: Hallie Banned Hunter From Seeing The Minor
On July 8, 2018, during a chaotic exchange over the course of several days, Hallie Biden prevented Hunter Biden from seeing the minor at the center of the allegations.
Hallie expressed concern that the minor could be in danger, apparently because of Hunter's drug use at the time.
"Ill send [redacted] flight info," Hunter wrote to Hallie.
"No way. Goodby hunter," she replied.
"So why won't you send [redacted] why hallie?"

Aug 2018: Uncle Jim Talks Hallie's "Character Assassination"
On August 9, 2018 at 8:21 a.m., according to the texts from the laptop, Joe Biden's brother, Jim Biden, texted Hunter urgently asking to speak with him.
Jim Biden described himself as a business partner of Hunter in the text messages, and has been described in the media as Hunter's partner in several international businesses related to Ukraine and China around this time.
"It is imperative that I speak with you," Jim Biden texted Hunter. "We are friends and partners and family. I have always been there for you and you have always been there for me. It is simply not fair to shut me out. This about you and me — nothing to do with Caroline. I love you. Call me, text me, we have to be able to communicate with each other."
Jim Biden later added, "I'm not mad or angry. What I want to do is get on a plane and come see you! I don't want to be driving all over LA trying to find you. It could take me months! Where are you staying? I have a flight at 7:45 est time tonight. Love, U Jim."
Hunter responded that afternoon, "I'm just down I promise and for good reason. But I swear I am ok."
"I want and need to come. It's been to long. Period the end!!!," Jim Biden replied. "Give me the address. Just between us!"
Two hours later, Joe Biden's brother sent the following cryptic text: "Everything good. He will be calling you. He will not say a word. I'll have a truck here sun/ Monday whatever works. I love you," Jim said.
Jim contacted Hunter again the following day: "Hunter, it is imperative you call me or your father. Your father is getting as am I barraged by Hallie. He has not responded I have not responded," wrote Jim.
Jim told Hunter that both he and Joe Biden "agree and trust" him regarding Hallie's allegations. "She is spreading what you told me and I believe you !!!! Are lies," Jim Biden wrote.
"Once again we both need you side of the story so we can both shove it down her f***ing throat," wrote Jim Biden.
"I implore you to call. Please I/we are on you side. I believe you," Jim Biden assured Hunter. He then described the allegations as "character assassination."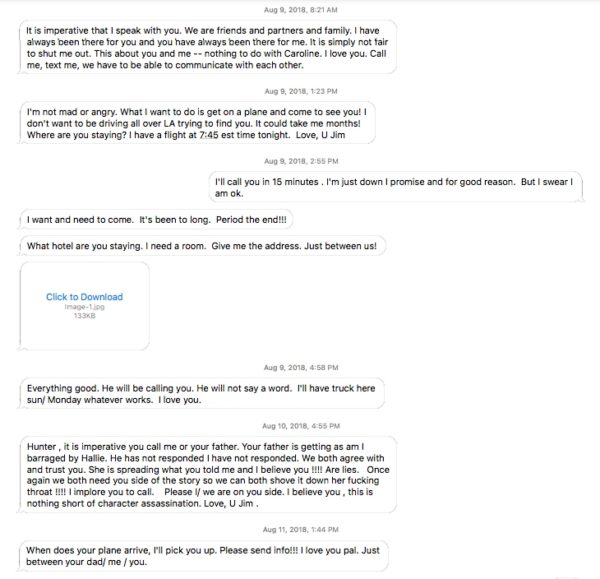 The next day Jim Biden inquired about the flight: "When does your plane arrive, I'll pick you up. Please send info." He added that everything would stay "Just between your dad/ me / you."
Without a response from Hunter, Jim Biden informed his nephew that Joe Biden "has called me 5 times since 6:15" and "has kept his word" about remaining silent, but "is being beating up" by family members demanding a more thorough intervention.
"Being push to have everyone come to you" in California, wrote Jim Biden. "Please call me with flight# and definite time for coming home."
"Other than your dad who kept his word, they are all F-nuts."

– Jim Biden describing his family to Hunter Biden
According to the text message exchange, it Hunter Biden was apparently in California to receive treatment for his drug addiction.
"This is important to your dad. I believe in you and always will," wrote Jim Biden.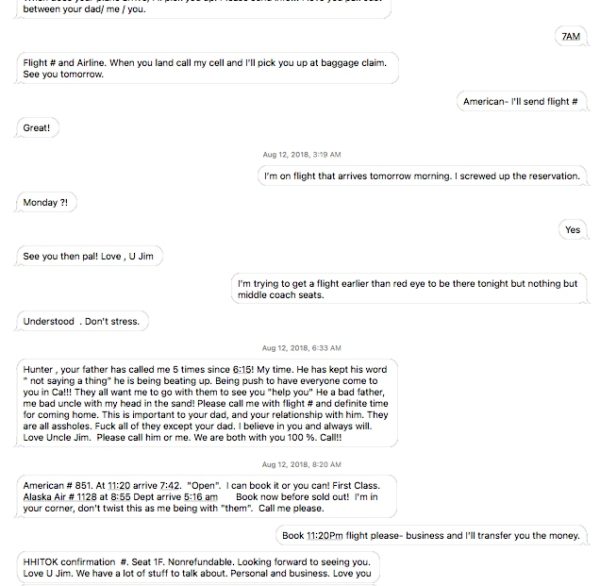 "Everyone needs to remember the source of this ridiculous hysteria," Hunter Biden later told his uncle after claiming a series of issues with his flights.
Jim Biden replied that "Other than your dad who kept his word, they are all F-nuts." He then promised to "stay away, I mean it."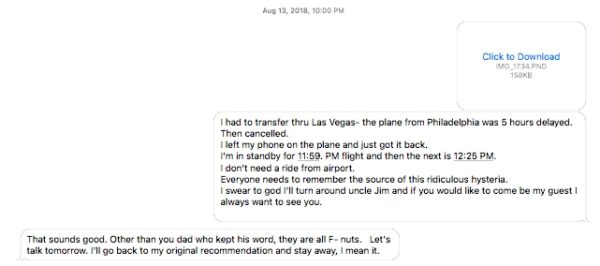 Fall 2018: Hunter Confides Allegation To Sister Ashley, Family Friends
Hunter Biden later referenced the accusation levied against him in text messages sent to Ashley Biden, his sister and the daughter of Joe Biden.
Ashley Biden, as a trained social worker, appears to be a mandatory reporter who may be required by law to report all incidents of possible child sex abuse to the authorities.
During the conversation, Ashley Biden told Hunter that she was not aware Hallie Biden banned Hunter from seeing the minor.
Hunter told Ashley that she sits "in judgement of me in agreement with her [Hallie] that [redacted] cannot be alone with me," the text messages reveal.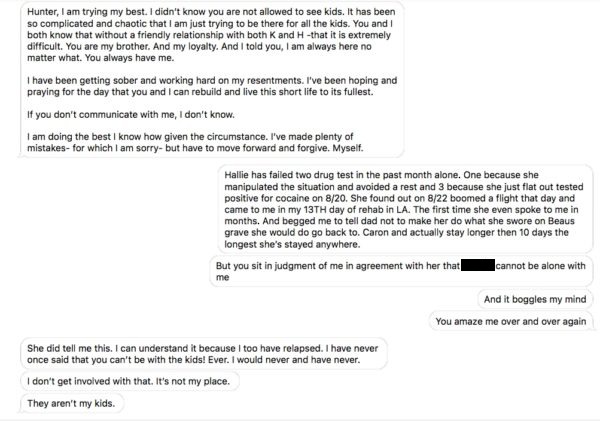 Hunter Biden continued to accuse his sister of taking Hallie Biden's side in the family crisis.
"She told my therapist that I had been sexually inappropriate with [redacted]," Hunter texted
"Sexually inappropriate," Hunter then added.
"My therapist had to question her for close to 10 minutes to make certain that she did not have an obligation to report me to the police."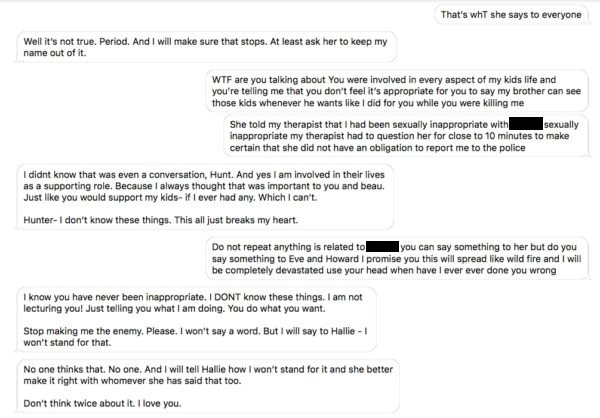 "I didn't know that was even a conversation, Hunt," Ashley Biden replied. "This all just breaks my heart."
Hunter told Ashley to "not repeat anything is related to [redacted]," adding that "you can say something to her but do you say something to Eve and Howard I promise you this will spread like wild fire and I will be completely devastated use your head when I have ever ever done you wrong."
Ashley Biden, the recipient of a master's of social work degree from the University of Pennsylvania's School of Social Policy and Practice in 2010, has been referred to by the press as a professional social worker. Social workers are typically considered mandatory reporters.
It is unclear if Ashley Biden would have had a legal obligation to report this allegation at the time, or whether she took any measures to report the allegation to the proper authorities.
However, according to Delaware state law – where Ashley's family resides – specifically 16 Del. C.,§ 903, "any person, agency, organization or entity who knows or in good faith suspects child abuse or neglect," including but limited to, "any physician, any other person in the healing arts including any person licensed to render services in medicine, osteopathy or dentistry, any intern, resident, nurse, school employee, social worker, psychologist, medical examiner, hospital, health-care institution, the Medical Society of Delaware or law-enforcement agency," is mandated to report child abuse and neglect.
The next day, on September 23, 2018, Hunter tried to contact a person who appears to be Elizabeth "Liz" Secundy, Hallie Biden's sister, and thus a relative of the underage girl.
In the text message exchange, Hunter told Secundy that he assumed that she was no longer speaking to him because she was "under a lot of pressure."
He again mentioned his frustration with Hallie telling "people I'm sexually inappropriate with [redacted]."
Hunter went further, adding that "If any one of you ever repeat that again I swear to god you might as well put the gun to my head yourself" and that if "all the tabloids who live to Dick with me" learn of the incest rumor, then "I will not survive that no one could survive that."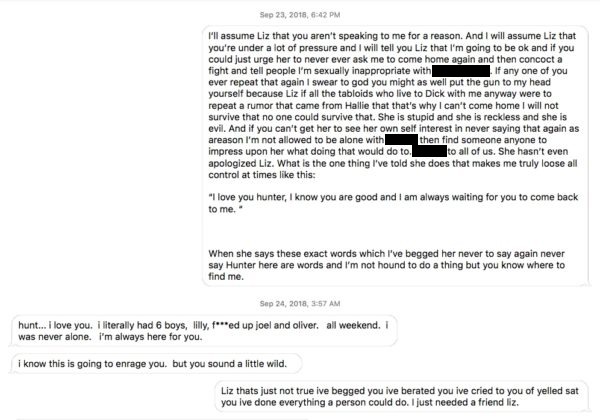 In the early morning of September 24, 2018, Secundy told Hunter that he sounded "a little wild," per the text messages.
"Your father is getting as am I barraged by Hallie. He has not responded I have not responded"

– Jim Biden to Hunter Biden
Nov 2018: Hunter And Hallie Argue About The Allegation
Later in 2018, Hunter complained to Hallie that "[redacted] thinks I molest her."
"Poor you," Hallie retorted.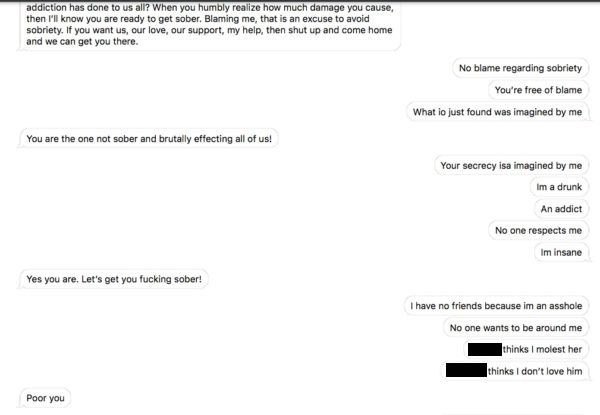 That same month, the Beau Biden Foundation for the Protection of Children, where Hallie is a board member, posted a tweet featuring Hallie Biden.
It discussed child sexual abuse statistics.
"By now, I'm sure many of you know the facts…" Hallie Biden said in a statement, according to the tweet.
"By now, I'm sure many of you know the facts…" -Hallie Biden, co-chair @BeauBidenFdn #OperationSafeguard pic.twitter.com/8eIzwhuGZT

— Beau Biden Foundation (@BeauBidenFdn) November 28, 2018
Jan 2019: Hunter Tells Hallie To Stop Talking To His Shrink
During a January 2019 conversation, Hunter confronted Hallie over her decision to communicate with his controversial therapist, Keith Ablow, who was treating Hunter for his drug addiction at the time.
The text messages regard the incident that involved Hallie tossing Hunter's firearm in the trash, resulting in a Secret Service investigation despite Joe Biden not actively being in government at the time.
In the text message exchange, Hunter told Hallie that "the last time I let you speak to my therapist you told them I was sexually inappropriate with [redacted]."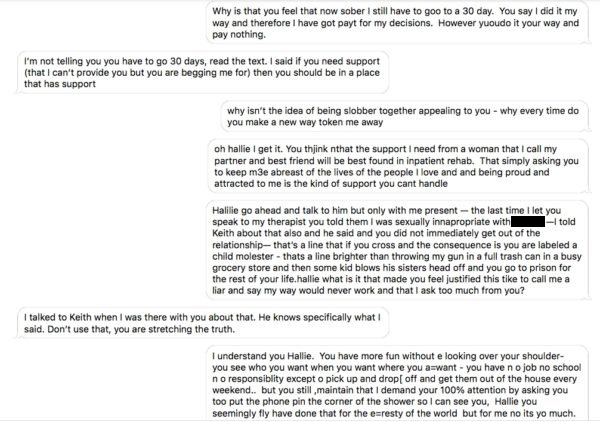 He continued, "that's a line that if you cross and the consequence is you are labeled a child molster [sic]".
Hunter added that this is "a line brighter than throwing my gun in a full trash can in a busy grocery store and then some kid blows his sisters head off," apparently referencing the gun incident.
That same month, Hunter told Ablow that Hallie "accused me of being sexually inappropriate" with the minor relative.
"Hallie called and said I both was physically abusive too her and sexually inappropriate with [redacted] and her cousin [redacted]," Hunter told his therapist.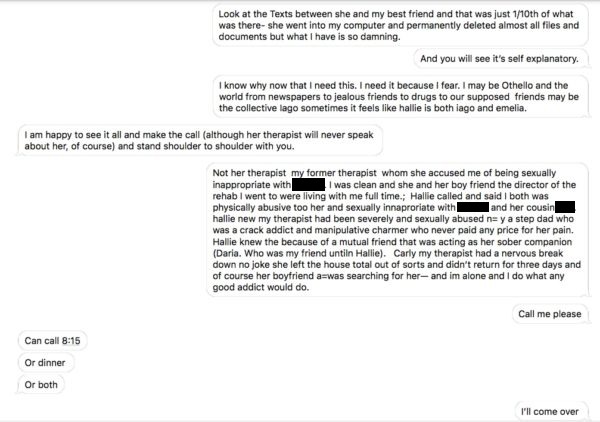 "Call me please," Hunter pleaded. "Can call 8:15," Ablow replied. "Or dinner" he added. "Or both."
Ablow would later go on to lose his license to practice medicine in Massachusetts in May 2019 after it was alleged that he used his position as a psychiatrist to manipulate female patients into having romantic relationships with him.
Per the New York Times in 2019, "Dr. Ablow's license was suspended in Massachusetts after an investigation determined that his continued practice was a threat to the 'health, safety and welfare' of the public."
"My mom tells him things like I'm sexually inappropriate with the children."

– Hunter Biden
March 2019: Hunter References Hallie's Allegation
In text messages exchanged between Secundy and Hunter on March 16, 2019, Hunter Biden expressed displeasure and frustration over his relationship with Hallie, and accused her of "intentionally hurting me and creating an almost perfect storm for my relapse."
"I really don't know how to leave because the isolation and loneliness is doing to Jill," wrote Hunter.
Secundy told Hunter "i love you and i'm here for you." She added, "but real talk. you're wrong. i'm sorry if that hurts you."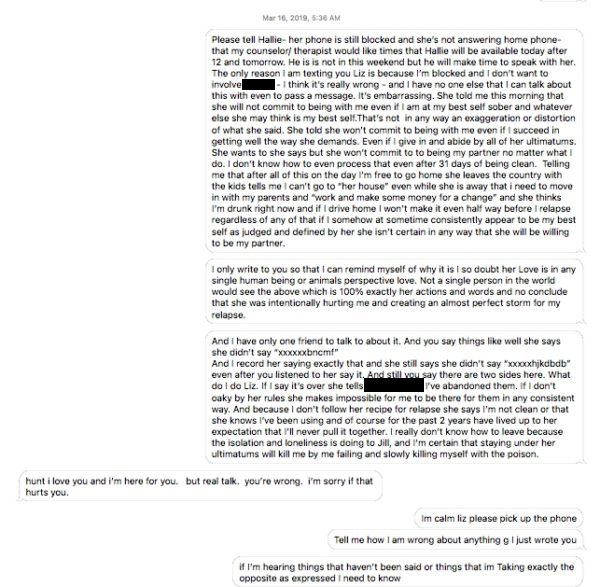 Secundy later told Hunter that Hallie was "not ready to engage in a conversation with you and your therapist."
Later in the day, Hunter sent a lengthy text comparing Hallie Biden to his "mom," presumably, First Lady Jill Biden, who raised him with Joe Biden as a stepmother following the death of Biden's first wife, Neilia Hunter Biden, in the year 1972. Hunter was three at the time of his mother's death.
"She is just like my mom in so many ways and I don't like my mom I love her but I don't like her and that's not gonna change," Hunter Biden charged.
He added that "my mom doesn't like me because of the same reasons that Hallie doesn't like me she loves me but she's never gonna like me."
Hunter eventually added that "my mom tells him things like I'm sexually inappropriate with the children," appearing to suggest that the now-First Lady had been relaying Hallie's allegations to Joe Biden.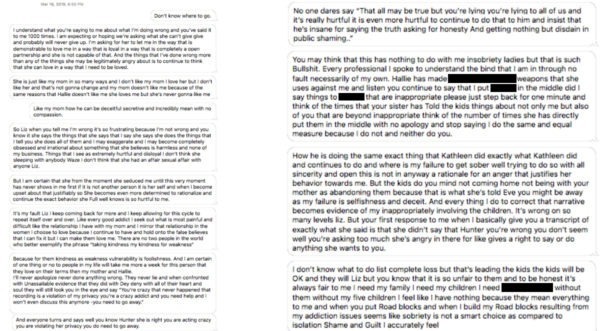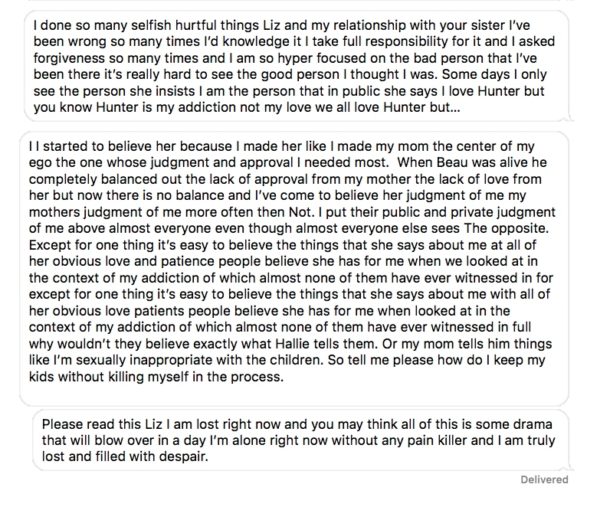 While many these text messages have been made available to the public via various news outlets, this reporter received an advance copy of the text messages from Hunter Biden's laptop from the Marco Polo research group.
That group has since released the entirety of Hunter Biden's text messages, which can be viewed in a PDF file on the Marco Polo research group's website.